Exporting from Nigeria: Cost-Effective Shipping Services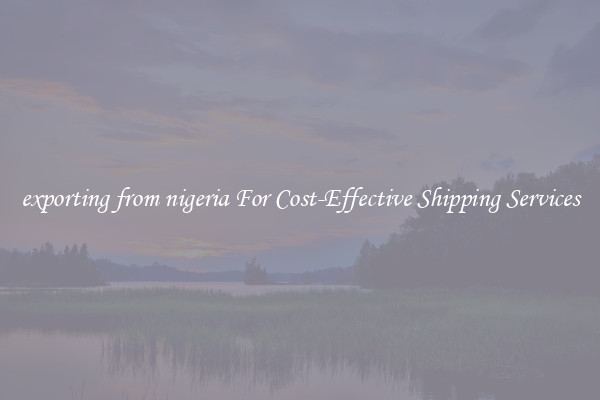 Nigeria, as one of the largest economies in Africa, offers a wide range of export opportunities for entrepreneurs looking to expand their global reach. However, when it comes to exporting goods, one crucial aspect that cannot be overlooked is cost-effective shipping services. Efficient shipping services play a significant role in ensuring competitiveness in the international market, and exporters in Nigeria must explore options that optimize costs without compromising on quality. Here, we discuss some key factors to consider for cost-effective shipping services.
Choosing the Right Shipping Method:
The choice of shipping method can greatly impact the overall cost of exporting. Nigeria has several options available, including air freight, sea freight, and land transportation. While air freight might seem like the fastest option, it is generally more expensive and suitable for goods with higher value and shorter lifespan. Sea freight, on the other hand, is more cost-effective for larger shipments but can take longer. Assessing the nature and urgency of your product will help determine the most suitable shipping method to minimize costs.
Optimizing Packaging and Documentation:
Proper packaging of goods is essential to prevent damage during transportation and ensure they comply with international shipping regulations. Oversized or excessive packaging can lead to higher shipping costs due to increased weight and volume. Therefore, it is vital to optimize packaging to reduce unnecessary expenses. Additionally, accurate and well-prepared documentation can help avoid delays, penalties, or custom issues, resulting in a smoother and more cost-effective shipping process.
Utilizing Consolidated Shipping:
Consolidated shipping, also known as groupage, is an option that allows multiple exporters to share space in a shipping container, reducing individual transportation costs. This method is particularly beneficial for smaller shipments that may not require an entire container. By combining multiple smaller shipments into one, exporters can take advantage of reduced costs while still having their goods safely transported.
Partnering with Freight Forwarders:
Engaging the services of reputable freight forwarders can greatly contribute to cost-effective shipping. These experienced professionals have extensive knowledge of the shipping industry, including customs regulations, paperwork requirements, and shipping routes, which can help minimize delays and additional fees. Freight forwarders can also negotiate better shipping rates due to their established relationships with shipping lines and carriers, ultimately providing exporters with more competitive pricing options.
Regularly Reviewing Shipping Contracts:
Regularly reviewing shipping contracts can help identify any areas for improvement or potential cost savings. As the shipping industry is constantly evolving, staying up to date with market trends is crucial to understand any fluctuations in shipping rates or new cost-effective shipping options. By periodically evaluating and renegotiating contracts, exporters can ensure that they are receiving the best possible shipping services at the most competitive rates.
In conclusion, cost-effective shipping services are a crucial aspect of exporting from Nigeria. Choosing the right shipping method, optimizing packaging and documentation, utilizing consolidated shipping, partnering with freight forwarders, and regularly reviewing shipping contracts are all strategies that can help exporters minimize costs without compromising on quality. By incorporating these factors into their export processes, Nigerian entrepreneurs can enhance their competitiveness in the international market and maximize their export potential.